This article is an excerpt from a newsletter from the Georgia Department of Natural Resources. We at GDEP thought it was an exceptionally-written and relevant article, and have chosen to share it on our blog this week in lieu of an original article written by one of our blog team. 
---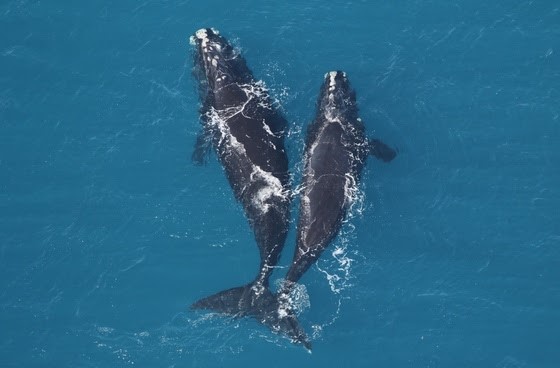 We've been here before. Or so goes the hope of scientists who monitor North Atlantic right whales.
In winter 2000, only one right whale calf was seen off the coast of Georgia and north Florida, the only known calving grounds for the species. Yet the next year the right whale floodgates opened: Researchers reported 31 calves, the most since comprehensive aerial surveys began in the late 1980s.
Senior wildlife biologist Clay George, who leads DNR's right whale research, knows how quickly things can turn around. But that hasn't made this winter any easier: Three months into the four-month right whale calving season, not a single calf has been spotted in Georgia or Florida waters.
And there are other factors, dire ones, that suggest these school bus-sized mammalsare not on the brink of a comeback but possibly sliding back toward extinction.
George mentions the five calves seen last year, below-average calving totals since 2012 and fewer than 100 breeding females left in the entire North Atlantic right whale population, estimated at only about 450.
"I keep thinking, when are we going to have that amazing rebound. But it just has happened yet."
With calving tanking, the number of dead right whales found along the Atlantic Seaboard in 2017 also surged to 17, nearly 4 percent of the population. "That's not sustainable," George said.
More sobering insights: Right whales have traveled farther north into Canada to feed in recent summers, using habitats in the Gulf of St. Lawrence, where most of last year's deaths occurred. Fewer whales have been seen in traditional feeding spots in the Gulf of Maine, along the U.S. and Canadian border. Scientists speculate the shift may be due to rising temperatures and changes in copepod populations, the tiny crustaceans the whales eat, filtering them from the water through baleen plates.
Less food means leaner whales and fewer calves. The interval between when females give birth has stretched from an average of four years to 10.
Add to the list a persistent killer – entanglement in commercial fishing rope – and the outlook is even dimmer. More than 80 percent of right whales bears scars from ropes used to catch lobsters, crabs and other seafood. Females that survive rope entanglements have lower reproductive output over their lifetimes.
The downward trend is erasing earlier successes. The population grew by more than 200 whales from 1990-2010.
With temperatures already warm enough to send whales back north, only 12 whales have been seen in the Southeast this winter. Two were females that had calved before. One was a male in poor condition.
That is more than last winter's record-low of seven whales. But it's not enough to renew hope. Not yet.
---
Source: Dept. of Natural Resources Newsletter, 28 February, 2018
https://content.govdelivery.com/accounts/GADNR/bulletins/1de6f1a